On October 5, a delegation from Donetsk and Luhansk oblasts paid a study visit to Vinnytsia. For three days, guests had been learned about successful practices to increase investment attractiveness and shared experiences. The delegation plans to get acquainted with the work of ME "Vinnytsia Municipal Center of Innovation", "Institute of Urban Development", "Spatial Development Agency".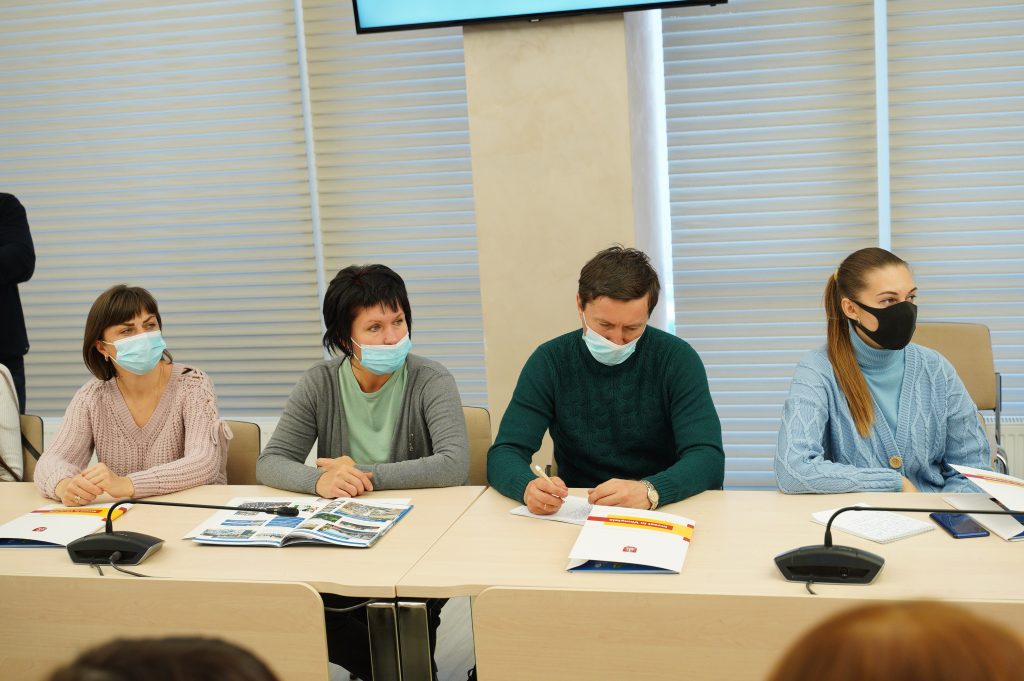 The study visit to Vinnytsia "Practical tools for building financial capacity and strengthening the investment attractiveness of the local community in the context of reforms" is conducted by the UN program to restore and build peace with the financial support of the European Union.
The delegation was greeted by Deputy Mayor Andrii Ocheretnyi. "I am glad to welcome you in Vinnytsia. I convey the congratulation from the mayor Sergey Morgunov, – Andrii Ocheretnyi speaks. – Vinnytsia differs from most cities in a way that we have a good investment potential. We have three industrial parks. One of them is already working – it is the Vinnytsia cluster of refrigeration engineering. The second industrial park – "Winter Sport" – there just began the construction of the plant. The third – Vinnytsia Industrial Park – is a municipal park, now it is being filled. "
During the meeting, the guests were interested in the work of the situation center, investment projects, business support activities.
Among the guests is Olena Kiyashko, Deputy Head of the Promotion and Innovative Development Department of the Department of International Technical Assistance, Innovative Development and External Relations of the Luhansk Regional State Administration. "I came from Luhansk region, I want to learn from Vinnytsia's experience in investment policy. I am interested to know more about industrial parks, because in Luhansk region there are number of registered ones, but they do not work, – says Olena Kiyashko. – Your city is attractive for tourists. Today we are here for the first day, so we haven't seen much yet, but we like your parks, streets, we were amazed by the murals. We plan to visit the Pyrogov Museum. We still have three days to enjoy Vinnytsia. In general, I have a very positive impression of your city, community. You are really working on innovation. I personally like the way you support business. "
The head of the investment department of the Konstantynovka City Council of the Donetsk region Olena Shchekodina noted that she was very interested in the topic of the study trip. "It will be useful for all of us to learn about the investment development of Vinnytsia, because our city is just beginning to move in this direction. We also have a technology park and we will be interested to hear how to develop it, how to attract investors. We also want to know more about environmentally friendly transport that does not use gasoline. Business support is also interesting. In general, we want our community to develop and therefore be ready to share experiences, "says Olena Shchekodina.