The ReBuild Ukraine international forum, the topic of which is the need to rebuild Ukraine, ended in Warsaw. Due to the Russian aggression, millions of people have suffered in our country, and many infrastructure facilities in various cities have been destroyed or seriously damaged. Vinnytsia was among more than 20 communities that became participants in the forum. The delegation from the city council presented projects for reconstruction.
From Vinnytsia, the secretary of the city council, Pavlo Yablonsky, took part in the exhibition-conference and presented the plan for the reconstruction of the airport terminal of the Vinnytsia Airport Communal Enterprise. He emphasized that this is an extremely important project not only for the city and region, but also for the entire country. Therefore, the city is counting on attracting investments to restore the airport.
"As a result of the missile attack on Vinnytsia airport, which took place on March 6, 2022, the infrastructure of the airport and the building of the airport itself were destroyed," says Pavlo Yablonskyi. – The project of reconstruction of the airport provides for the division of the terminal into two sectors: international and domestic flights, the carrying capacity will be 400 passengers per hour. We are convinced that the restoration of the airport will be a catalyst for attracting investments to the city and the development of various spheres of a socio-economic nature, which will entail a breakthrough in the Vinnytsia community. The airport will attract tourists, stimulate economic activity, improve the transport capabilities of the region, and create prerequisites for the creation of new jobs."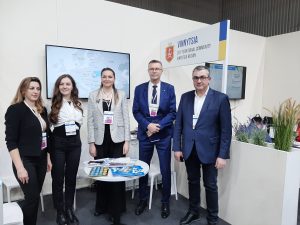 During the forum, the delegation got acquainted and established communication with representatives of Germany, Denmark, the Netherlands, Poland, Italy, France and departments of other countries, discussing areas of cooperation. In particular, representatives of the Italy-Ukraine Chamber of Commerce and Industry offered to organize events with visits of Italian companies to Vinnytsia and Vinnytsia companies to Italian cities, respectively.
Europeans were especially interested in industrial parks of Vinnytsia, as well as the project of reconstruction of heating networks and, in fact, the air terminal.
More than a thousand visitors to the forum are ready to contribute to the reconstruction of Ukraine and conduct negotiations right now. These are ambassadors, ministers, banking institutions, national companies, representatives of large and medium-sized European businesses. The proposed assistance to Ukraine from their side is not only in providing the necessary high-quality products, but also in attracting technologies and expertise of qualified specialists. In addition, it was about the involvement of new technological solutions for water purification systems, as well as the construction of water pipes, hangars, agricultural machinery, windows and other materials for construction.